Korean BBQ, soon tofu, hot stone bowls, and ho-dduk…it's hard to pick just one favorite when talking about Korean cuisine. Fortunately, New York City's Koreatown has them all for you, and then some! Rounded up below are our top five picks for dining in NYC's Koreatown, so if you find yourself in the neighborhood, be sure to bring an appetite.
Best of NYC Koreatown: BCD Tofu House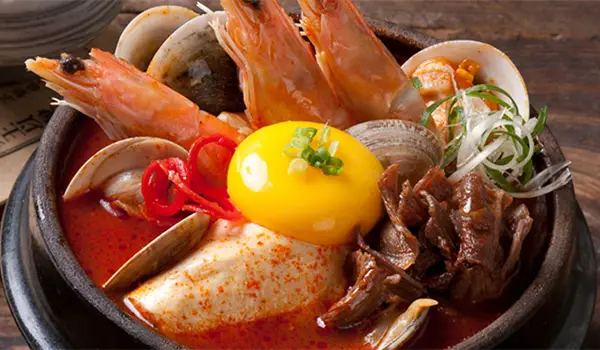 While BCD Tofu House has a decently sized Korean menu, it's the soon tofu that you come here to order. BCD offers ten unique soon tofu dishes that include traditional Korean options such as kimchi, dumpling, and soybean paste and more diverse seafood options with shrimp, clam, and oyster. The restaurant is also loved for their soon tofu combo deals that include your choice of spicy pork, spicy BBQ chicken, spicy raw crab, Atka mackerel, and other entrees accompanied by the Assorted Soon Tofu (beef, shrimp, clam). 5W 32nd St., 212-967-1900, bcdtofu.com
Best of NYC Koreatown: Woorijip Authentic Korean Food
Open until two and three in the morning, Monday through Saturday, Woorijip Authentic Korean Food will not let you down if you're looking for some late-night grub. You'll find just about every traditional Korean dish here, from kimchi fried rice and abalone porridge to fried flat fish and rolled egg pancakes. It's hard to beat the prices here, and the self-service atmosphere makes for a quick grab and go experience that is perfect for when you're on the move. 12 W. 32nd St., 212-244-1115, woorijipny.com
Best of NYC Koreatown: miss KOREA BBQ
All of the dishes at miss KOREA BBQ have been delicately crafted by renowned Korean food consultant Chef Sun Kyu Lee, and you can taste it in everything from the signature clay pot galbi's flavor (marinated for over 48 hours) to the black pork belly entrée and organic tofu soup starter. Of course, you can't come here and not order Korean Barbecue, which you cook to your own liking at your own table. Meat combos can be ordered so that you can enjoy beef short rib, spicy pork belly, chicken, and the like all in one go. 10 W. 32nd St., 212-736-3232, misskoreabbq.com 
Best of NYC Koreatown: Hangawi
Hangawi describes itself as "a vegetarian shrine in another place and time", and with its traditional shoes-off, floor-seating setup, you can bet that it's just that. Don't let the vegetarian menu scare you off if you're a meat-lover, because you'll be missing out if you do. The rice and vermicelli noodle stone bowls are filled with the likes of spicy kimchi, avocado, gingko nuts, and ginger, providing you with all the flavor you could ever ask for. The Mushroom Sizzler in a Hot Pot and Spicy Rice Cakes are also local favorites. 12 E. 32nd St., 212-213-0077, hangawirestaurant.com
Best of NYC Koreatown: Grace Street
If you're grabbing dinner in Koreatown, always leave some room for Grace Street. This Korean coffee and bakeshop is always bustling, and there are a few things on the menu that are must-tries. The Ho-Dduk is one of them, a Korean donut that is made from soft, pillow-like dough filled with melted brown sugar, chopped walnuts, and cinnamon. Grace Street is also well known for their Shave Snow, which comes in Green Tea, Toasted Black Sesame, and other rotating flavors. 17 W. 32nd St.
This article is originally posted on NYC's Original City Guide